Open-Loop Plastic Recyling
Sustainable Polymer Solutions is an expert at open-loop recycling, the conversion of material from one or more products into a new product, such as recycling automotive parts into consumer products or construction components. We identify overlooked and underutilized plastic waste and are creating many more viable options for manufacturing use.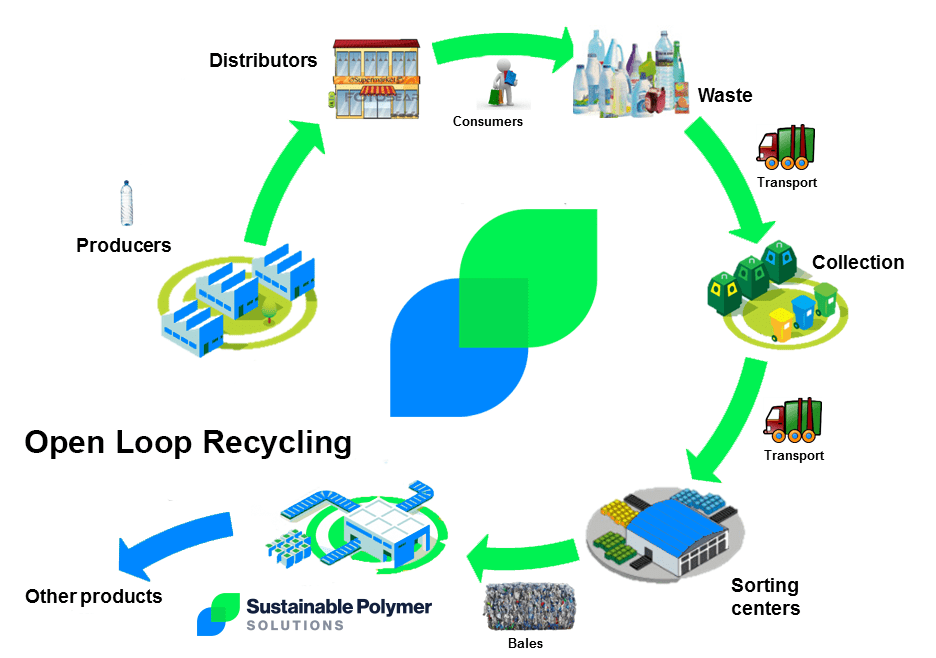 SPS is dedicated to and working towards continuous feed streams to provide customers with reliable, consistent, and cost-effective recycled resins. We're committed to being a trusted supplier contributing to your long-term business success.
Sell as Regrind
Enhance / Custom Components
Used In

Injection Molding
Blow Molding
Extrusion Molding
Blending
Used to modify or enhance plastic properties.
Used In
Rotational Molding
Color Concentrate Manufacturing
Fluidizing Bed Powder Coating
Powder Coating
Testing occurs with incoming waste streams to ensure they are not cross-contaminated, as well as, post-processing to ensure the recycled resin meets our customer's specifications.
Recycling plastic by pelletizing is one of the best ways to reuse and repurpose plastic scraps that are produced in high quality from manufacturing plants. Plastic manufacturing companies can then re-use these pelletized plastics in a wide variety of applications.
The process used by Sustainable Polymer Solutions for plastic pelletizing returns the full value of the recycled materials to the manufacturer. These recycled resin pellets are ideal for re-use in high-end applications for the automotive and consumer markets.
Sustainable Polymer Solutions offers toll processing for those who want to re-use scrap in their own manufacturing processes. Contact us to discuss how SPS can help reduce your manufacturing costs through toll recycling.
Plastic compounding is a process of melt blending plastics with other additives which changes the plastic's physical property performance, thermal, electrical, or aesthetic characteristics. The heating process along with mechanical mixing creates a chemical interaction that transforms the blend into a new compound component. 
Compound components are often used when a molded product needs a cost-effective way to enhance performance or impact strength over other commercially available grades. Plastic compounding also allows manufacturers to tailor the resin to exact specifications and part requirements.
Our team at Sustainable Polymer Solutions is available to help customize a compact component from recycled plastic. If you prefer a virgin plastic component engineered, our sister company, PolyEvo, has the solution. 
Pulverized plastics can help reduce material costs, recover value, and improve product quality in the manufacturing process. 
Finely milled pulverized plastics are used on compression molding, highly reinforced composites, powder coating, 3D printing, and other demanding applications. For compression molding, the powder can be used neat or blended with lubricants, modifiers, additives, and/or reinforcements prior to being molded into basic shapes that have no internal stresses.
100% post-consumer fractional melt HDPE, FDA-LNO, natural color

100% post-consumer certified copolymer, FDA-LNO submitted, random clear color

Injection, compression, and extrusion molding

100% post-consumer certified copolymer, FDA-LNO submitted, natural color, PP resin from highest quality hot-washed colorless flakes

100% post-consumer certified copolymer, FDA-LNO submitted, white tint color

100% Post Consumer LLDPE, FDA-LNO, natural color

Blown film, extrusion, blow molding, injection molding, roto molding

Reprocessed fractional melt HDPE

Blow molding, Extrusion molding

Reprocessed fractional melt HDPE

Blow molding, Extrusion molding

Blow molding, Extrusion molding

Reprocessed/Compound No-Break PP

Reprocessed Nylon 6, heat stablized, impact mod.

Reprocessed general purpose ABS

Reprocessed/Compound, impact, processability, chemical resistance.

Economy grade reprocessed PC/ABS